Electric vehicles (EVs) have been introduced as a clean energy alternative featuring low or zero emissions and almost all automobile companies have started working on their business strategies. Automakers have created separate EV business units/subsidiary to actively invest in the technology and get themselves prepared for the expected demand, which is likely to create a need for a huge supply of lithium-ion batteries. Lithium batteries represent the most promising battery technology for electric vehicles.
Australia Has Huge Advantage On Battery Shift
As per U.S. Geological Survey, Australia leads the world in lithium production and possesses an estimated 6.3 m tons of lithium reserves. Australia contributes up to 50% of the world's lithium mine/concentrate. Australia produces all of the 10 mineral elements required to produce most lithium-ion battery electrodes.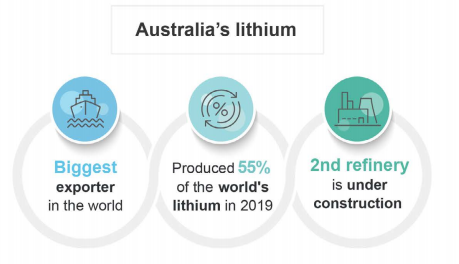 Source - Resources-and-Energy-Quarterly-June-2020-Lithium
The rise of electric vehicles means demand for lithium has more than doubled over the last decade. This increased demand has caused mining companies to invest heavily in lithium mining projects around the world, hoping to capitalise on a global shift to renewable technologies. Since 2017, six lithium mines have opened in Australia. Australia is set to maintain its position, with existing mines steadily ramping up production, bringing over 400,000 mt LCE of new supply by 2025.
COVID-19 and Lithium Outlook
The Covid-19 shutdown has presented challenges, and the sector has hit hard. The pandemic has depressed the demand for EVs. The lithium producers have curtailed their production and most of them have pull backed their capex plan as well. On the demand side, electric vehicles sales are forecasted to drop by 18% in 2020 due to the effects of COVID-19.
While COVID-19 related manufacturing closures have impacted lithium battery/electric vehicle (EV) demand in the short-term, the pandemic has delivered accelerated investment in some jurisdictions which will have medium and long-term benefits. The Governments is working to utilise electric vehicle investment and support as a platform to stimulate their respective economies.
How Lithium Stocks Have Performed?
Over the years, investor's interest has extended to lithium producers as confidence grows in the electric vehicle and associated sectors. Some of the stocks have surged over 2000%, over the last 5 years. Over the last one month, the lithium stocks have again gained investors attention due to the large deals signed by the mining companies. On 28 September 2020, Piedmont Lithium reported that it locked a binding sales agreement with Tesla Inc to supply spodumene concentrate (SC6) to the leading electric vehicle company on fixed pricing arrangement for an initial five-year term. This has surged the price up by 93%, from $0.28 to $0.54.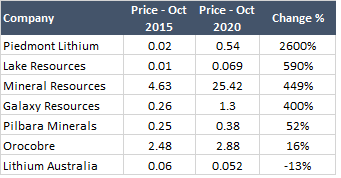 Over the past few quarters, Lithium prices have fallen significantly and appear to be finally stabilising. The stabilised price outlook is likely to help the mining companies to predict future revenues with less volatility in commodity prices. We believe that stabilising lithium prices, accelerated demand for electric vehicles and government support will help the lithium stocks to perform better in the coming quarters.
Disclaimer: Ace Investors Pty Ltd (ABN 70 637 702 188) authorized representative of Alpha Securities Pty Ltd (AFSL No.303575). Ace Investors has made all efforts to warrant the reliability and accuracy of the views and recommendations articulated in the reports published on its websites. Ace Investors research is based on the information known to us or which was obtained from various sources which we believed to be reliable and accurate to the best of its knowledge. Ace Investors provides only general financial information through its website, reports and newsletters without considering financial needs or investment objectives of any individual user. We strongly advocate that you seek advice, with your financial planner, advisor or stock broker, the merit of each recommendation before acting on any recommendation for their own specific financial circumstances and realize that not all investments will be suitable for all subscribers. To the scope permitted by law, Ace Investors Pty Ltd excludes all liability for any loss or damage arising from the use of this website and any information published (including any indirect or consequential loss, any data loss or data corruption). If the law prohibits this exclusion, Ace Investors Pty Ltd hereby limits its liability, to the scope permitted by law to resupply of the services. The securities and financial products we study and share information on, in our reports, may have a product disclosure statement or other offer document associated with them. You should obtain a copy of these before making any decision about acquiring any security or product. You can refer to our Financial Services Guide.