Reading Time : 5 Minutes
By Team : Ace Investors
On Monday, 20th April, 2020, the crude oil prices turned into negative territory for the first time in history. The price of a barrel of West Texas Intermediate (WTI), the benchmark for U.S. oil, fell as low as minus $37.63 a barrel — down $55.90 or more than 300%.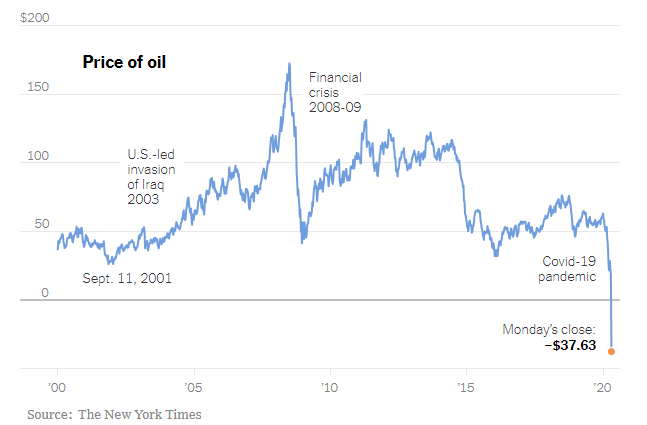 I believe that nobody has ever thought that the price of once known as Black Gold could turn negative. It seems that nobody is willing to touch this black gold and the sellers/oil producers are willing to pay buyers to get the crude off their hands.
Since the beginning of this year, the oil industry is going through its own difficult times. The price war that was first started because of the differences between Russia and Saudi Arabia, further intensified due to the global slowdown led by a coronavirus. Unmanageable surplus, lockdown, demand scarcity, all have contributed to the broken global oil market.
The demand for oil is collapsing. The crude consumption has dropped to 20 million barrels per day, from a normal level of 100 million barrels per day. Refineries are not willing to turn cheaply available oil into gasoline, diesel and other fuel as there is no demand – people are not commuting, airlines, factories, production all are at standstill.
Despite a deal between Saudi Arabia and Russia to cut production, it is becoming difficult to solve the oil storage problem. The problem we mentioned in this article as well. According to the New York Times post, nearly 60% of the world storage capacity is filled. With so much oversupply, finally we have come to a point where the oil is available so much that it no longer has value.
Impact of Negative Oil Prices on Stock Market?
With the fall in the crude oil prices, the stock market across the world have come under pressure but I believe that there is actually no need to fear as first, stock prices can't really be negative and globally Brent crude oil price is used as the benchmark not the U.S. centric WTI. At the time of writing, Brent crude oil was trading at $ 18.29 per barrel.
Why such price differential – Answer lies in storage!!
The price differential is primarily on account of U.S. WTI being landlocked, resulting in restricted storage options. In comparison, Brent is better placed as it is a seaborne crude, making storage less of an issue.
Government Taking Opportunity of Low Oil Prices – On 22nd April, 2020, it was announced that Australian government is planning to buy crude oil at current low prices and store it in the US Strategic Petroleum Reserve (SPR). They are likely to spend about A$94 million ($59 million). Under a recent deal with the U.S., Australia has access to that storage facility for an initial period of 10 years.
Performance of Energy Stocks – Year to Date

Panic could prove to be one of the best times to invest and build positions in high-quality companies impacted by short-term fear. Since the beginning of this year, stocks in the energy space have shown a correction of 40-60%. It is expected that the share price of oil companies will bounce back as oil consumption increases and the coronavirus related slowdown and market crash comes to an end. Long term Investors can benefit from this hard time by investing in companies operating with a strong balance sheet and cash flows.
Disclaimer: Ace Investors Pty Ltd (ABN 70 637 702 188) authorized representative of Alpha Securities Pty Ltd (AFSL No.303575). Ace Investors has made all efforts to warrant the reliability and accuracy of the views and recommendations articulated in the reports published on its websites. Ace Investors research is based on the information known to us or which was obtained from various sources which we believed to be reliable and accurate to the best of its knowledge. Ace Investors provides only general financial information through its website, reports and newsletters without considering financial needs or investment objectives of any individual user. We strongly advocate that you seek advice, with your financial planner, advisor or stock broker, the merit of each recommendation before acting on any recommendation for their own specific financial circumstances and realize that not all investments will be suitable for all subscribers. To the scope permitted by law, Ace Investors Pty Ltd excludes all liability for any loss or damage arising from the use of this website and any information published (including any indirect or consequential loss, any data loss or data corruption). If the law prohibits this exclusion, Ace Investors Pty Ltd hereby limits its liability, to the scope permitted by law to resupply of the services. The securities and financial products we study and share information on, in our reports, may have a product disclosure statement or other offer document associated with them. You should obtain a copy of these before making any decision about acquiring any security or product. You can refer to our Financial Services Guide.