Given favorable demographics and a growing aging population, the prospect of the healthcare industry in Australia looks positive. The share of the population aged 65 years and over is projected to increase by 2.2% to 19.7% from 2023–24 to 2033–34, while for those aged 85 years and over, it is expected to increase by 1.0 percentage point to 3.2%. Over the same period, the share of younger people will continue to fall, with those aged 0 to 14 years projected to decrease by 1.3 percentage points to 16.7 percent. In 2022-23, Australia spent nearly $107 billion on healthcare. According to Grand View Research, the Australia & New Zealand healthcare Contract Research Organizations (CROs) market size was valued at USD 1.0 billion in 2022 and is expected to expand at a compound annual growth rate (CAGR) of 11.5% from 2023 to 2030. Favorable factors like increasing adoption of advanced technologies, rising strategic initiatives such as geographical expansions, and R&D grants & tax incentives, and cost-effectiveness & favorable environment for clinical trials are driving the demand for CROs.
Australia's health system is underpinned by Medicare – a universal health insurance scheme. Medicare pays rebates for medical services and procedures provided by private practitioners in the community, such as GPs and other medical practitioners. Medicare ensures Australians have access to free hospital services for public patients in public hospitals and a range of prescription pharmaceuticals subsidized under the PBS. The Federal Government has allocated $5.7 billion over the next five years from 2022‑23 to strengthen Medicare and make it cheaper for Australians. The Government is tripling the incentive paid to GPs to bulk bill consultations for families with children under 16 years, pensioners, and Commonwealth concession card holders to make healthcare affordable. The Government has also allocated a sizeable amount for medical research to promote emerging biotechnology and Pharmaceuticals Company. The Federal Budget 2022-23 has committed $6.8 billion over the next 4 years for medical research through three funding sources, viz.:
$ 3.7 billion for the National Health and Medical Research Council

$ 2.6 billion for the MRFF

$ 0.5 billion for the Biomedical Translation Fund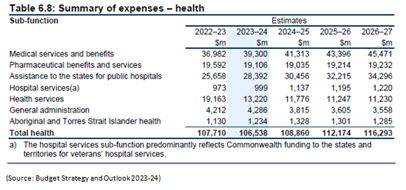 Given a robust framework and governmental support system, a growing number of research-focused companies are developing innovative products and solutions for unmet medical needs. To name a few are AVITA Medical, Inc. (AVH), Mesoblast Limited (MSB), Neuren Pharmaceuticals Limited (NEU), Polynovo Limited (PNV), Pro Medicus Limited (PME), and many more.
AVITA Medical, Inc. is a regenerative medicine group with a technology platform that addresses unmet medical needs in burn injuries, trauma injuries, chronic wounds, and dermatological and aesthetic indications. On 7 June'2023, the company announced that the U.S. Food and Drug Administration (FDA) has approved its premarket approval (PMA) supplement for using its RECELL® System to treat full-thickness skin defects. The expanded indication represents a broad label of full-thickness skin defects, such as wound injuries after traumatic avulsion (e.g., degloving), surgical excision (e.g., necrotizing soft tissue infection), or resection (e.g., skin cancer), thereby dramatically expanding the company's market opportunity at least five times. The regenerative medicine company Mesoblast Limited (MSB) also recently announced that FDA accepted Mesoblast's resubmission of the biologic license application for Remestemcel-L in children with steroid-refractory acute graft versus host disease. If approved, Remestemcel-L will be the first Allogeneic "Off-the-Shelf" cellular medicine in the US, and the first therapy for children under 12 years old with SR-aGVHD.
The biopharmaceutical company Neuren Pharmaceuticals (NEU) is developing therapies for brain injury, neurodevelopmental and neurodegenerative disorders. The company also announced that it's North American partner Acadia Pharmaceuticals (NASDAQ: ACAD) received US Food and Drug Administration (FDA) approval of DAYBUE™ (trofinetide) for the treatment of Rett syndrome in adult and pediatric patients two years of age and older. DAYBUE is the first and only approved treatment for Rett syndrome. In April'2023, Acadia launched DAYBUE™ (trofinetide) in the US.
Polynovo Limited (PNV) is involved in developing innovative medical devices for several medical applications, utilizing the patented bioabsorbable polymer technology NovoSorb. In Sep'2022, Polynovo received FDA 510(k) clearance for NovoSorb® MTX ("MTX"), a major new product innovation for soft tissue regeneration for the management of complex wounds. In May'2023, the company recorded its first sales in the US.
Pro Medicus Limited (PME) develops and supplies healthcare imaging software and services to hospitals and diagnostic imaging solutions. The company recently signed a 7-year contract worth A$20 million with the Gundersen Health System, comprising 7 hospitals, and 65 clinics across Wisconsin, Minnesota, and Iowa.
Disclaimer: Ace Investors Pty Ltd (ABN 70 637 702 188) authorized representative of Alpha Securities Pty Ltd (AFSL No.303575). Ace Investors has made all efforts to warrant the reliability and accuracy of the views and recommendations articulated in the reports published on its websites. Ace Investors research is based on the information known to us or which was obtained from various sources which we believed to be reliable and accurate to the best of its knowledge. Ace Investors provides only general financial information through its website, reports and newsletters without considering financial needs or investment objectives of any individual user. We strongly advocate that you seek advice, with your financial planner, advisor or stock broker, the merit of each recommendation before acting on any recommendation for their own specific financial circumstances and realize that not all investments will be suitable for all subscribers. To the scope permitted by law, Ace Investors Pty Ltd excludes all liability for any loss or damage arising from the use of this website and any information published (including any indirect or consequential loss, any data loss or data corruption). If the law prohibits this exclusion, Ace Investors Pty Ltd hereby limits its liability, to the scope permitted by law to resupply of the services. The securities and financial products we study and share information on, in our reports, may have a product disclosure statement or other offer document associated with them. You should obtain a copy of these before making any decision about acquiring any security or product. You can refer to our Financial Services Guide.