What is driving the demand for lithium?
The growing adoption of electric vehicles (EVs) is driving the demand for lithium. Lithium (Li) is a good conductor of heat and electricity. In recent years, there has been a resurgence in demand for lithium due to its key role in lithium-ion batteries for electric vehicles. Major global automakers are continuing to accelerate their plans to transition to EVs, by developing new product lines and converting existing manufacturing facilities for EVs. The global market share for passenger EVs increased fivefold since 2019, with EV sales accounting for about 14% of the overall passenger vehicles market in 2022. The strong underlying demand for EVs and declarations of EV makers imply that EV sales could reach about 40% of vehicle sales over the next decade. The global demand for lithium is estimated to increase from 814,000 tonnes of lithium carbonate equivalent (LCE) in 2022 to almost 1 million tonnes in 2023 and over 2 million tonnes by 2028, with Asia remaining the major source of demand despite the spread of new battery manufacturing capacity into Europe and the US. The global demand for lithium is expected to outmatch lithium production by around 3% in 2023. The current demand-supply mismatch situation will only go away in 2027, when production will outpace global lithium demand. Australia will continue to be the largest lithium producer, accounting for around 32% or 661,000 tonnes of global lithium carbonate equivalent (LCE) production by 2027-28.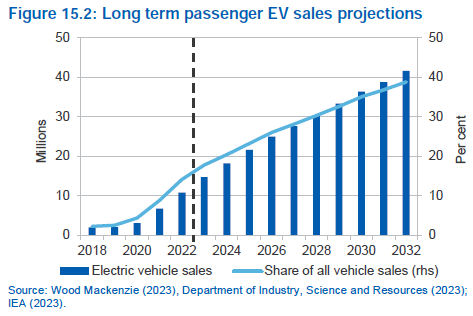 The strong demand outlook for lithium chemicals is attracting capital to build a global supply
Several expansions and new projects have been announced over the past year, with exploration and drilling activities picking up in many countries over recent months. Several capital projects and new projects have been announced in recent years. Australia's lithium hydroxide industry is to take off in 2023, with the Kwinana lithium hydroxide refinery (51% Tianqi and 49% IGO) commencing commercial production of battery-grade lithium hydroxide in Train 1 in late 2022. By the end of 2024, Australia could have up to 10% of global lithium hydroxide refining capacity, rising to over 20% of global lithium refining by 2028.
Several capital projects have been announced at Greenbushes in Western Australia, with IGO Limited expecting to increase its installed production capacity from approximately 1.5Mtpa to around 2.5Mtpa over the next four years. The construction of Chemical Grade Plant 3, which will have a production capacity of 500,000 tonnes of spodumene concentrate, is scheduled to complete by the second half of 2025.

In the Dec'22Q, Pilbara Minerals (ASX: PLS) commenced the construction of its 'P680' Project with a revised capital cost estimate of A$404 million and is targeting commissioning in the Sep'23Q, with full capacity targeted for the end of 2023.

Following the FID in 2022, Liontown (ASX: LTR) has ramped up construction at its Kathleen Valley project. The project is expected to deliver about 500,000 tonnes of spodumene concentrate in the first year, rising to about 700,000 tonnes a year by year 6. The first production is expected in mid-2024.

In late 2022, the Kwinana lithium hydroxide refinery (51% Tianqi and 49% IGO) started commercial production of battery-grade lithium hydroxide in Train 1. The company announced a revised ramp-up schedule in January 2023, with Train 1 now expected by IGO to operate between 60% and 70% throughput capacity by the end of 2023. The company noted that significant progress is underway on Train 2, with commissioning expected in 2024. Each train has a capacity of 24,000 tonnes a year.

Covalent Lithium's (Wesfarmers 50%, SQM 50%) Kwinana lithium hydroxide refinery is progressing and is forecast to start in the first half of 2025. The construction of the concentrator is now over 70% complete, and the first production is expected in the first half of 2024.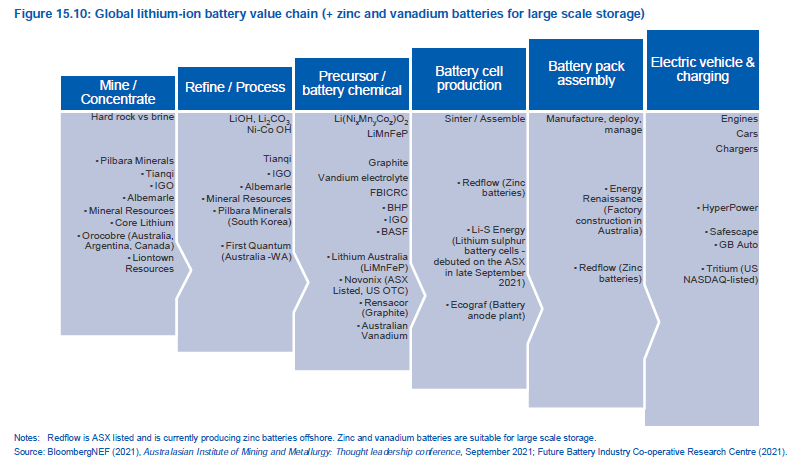 What are driving lithium stocks?
Since the start of 2023, spot prices for lithium have eased after reaching record highs in late 2022. Spot spodumene concentrate averaged about US$5,920 per tonne in Feb'2023. However, this was more than double the average spot prices in Feb'2022 and tenfold in Feb 2021. As per the ABS trade data, the average realized prices (a mix of contract and spot-priced exports) have increased strongly since early 2022 as processors sought to ensure that supply was sufficient to meet likely demand. Average realized spodumene prices are forecast to rise from $3,110 a tonne in 2022 to US$4,350 a tonne in 2023 (in real terms), due to the resetting of contract prices in late-2022. This increase in the realized prices has helped a plethora of lithium producers to report strong operational performance in Dec'2023Q and, consequently a positive move in share prices over the last year. (Source: Resources and Energy Quarterly March 2023)
Disclaimer: Ace Investors Pty Ltd (ABN 70 637 702 188) authorized representative of Alpha Securities Pty Ltd (AFSL No.303575). Ace Investors has made all efforts to warrant the reliability and accuracy of the views and recommendations articulated in the reports published on its websites. Ace Investors research is based on the information known to us or which was obtained from various sources which we believed to be reliable and accurate to the best of its knowledge. Ace Investors provides only general financial information through its website, reports and newsletters without considering financial needs or investment objectives of any individual user. We strongly advocate that you seek advice, with your financial planner, advisor or stock broker, the merit of each recommendation before acting on any recommendation for their own specific financial circumstances and realize that not all investments will be suitable for all subscribers. To the scope permitted by law, Ace Investors Pty Ltd excludes all liability for any loss or damage arising from the use of this website and any information published (including any indirect or consequential loss, any data loss or data corruption). If the law prohibits this exclusion, Ace Investors Pty Ltd hereby limits its liability, to the scope permitted by law to resupply of the services. The securities and financial products we study and share information on, in our reports, may have a product disclosure statement or other offer document associated with them. You should obtain a copy of these before making any decision about acquiring any security or product. You can refer to our Financial Services Guide.