The Australian property market has been on a falling trajectory for the past couple of months due to the changing economic conditions. Australia's interest-rate increases are continuously putting pressure on the nation's heavily indebted households and threatening a property downturn on a scale unseen since the 1991 recession. Since May, the central bank has increased the rate by 175 basis points. Inflation has been another main factor behind the huge downfall in the property market in Australia. During the quarter that ended on 30th June 2022, the Australian Bureau of Statistics (ABS) reported an annual inflation rate of 6.1%, which is the highest recorded since 1990.
The market hardest hit is Sydney, where home values have fallen almost 5% in the past three months, compared with 2% in the A$9.9 trillion ($6.8 trillion) national market. Further falls are unavoidable as the Reserve Bank is expected to raise borrowing costs. A Westpac economist has forecasted that Sydney and Melbourne would soon suffer a massive decrease, with property values in the NSW capital predicted to fall 10% this year and then by another 8% in 2023. Nationally, property prices are still expected to fall 16% over the next 18 months.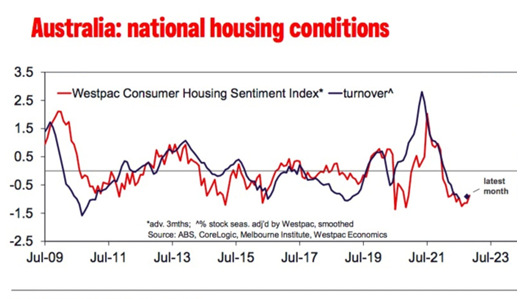 Impact of Property Crash on Property Stocks – Property crash has an impact on every part of the economy. Investors with their money invested in property and real estate investment trusts (REITs) face devaluations in their portfolios. The vast majority of Australian real estate stocks have faced heavy fall this year, reflecting some pessimism in the market. Goodman Group (GCG), has fallen 25% on a YTD basis. Other major real estate stocks, like Scentre Group (SCG), Dexus (DXS), and Stockland Corporation (SGP), have declined 12%, 21.2%, and 16.2%, respectively.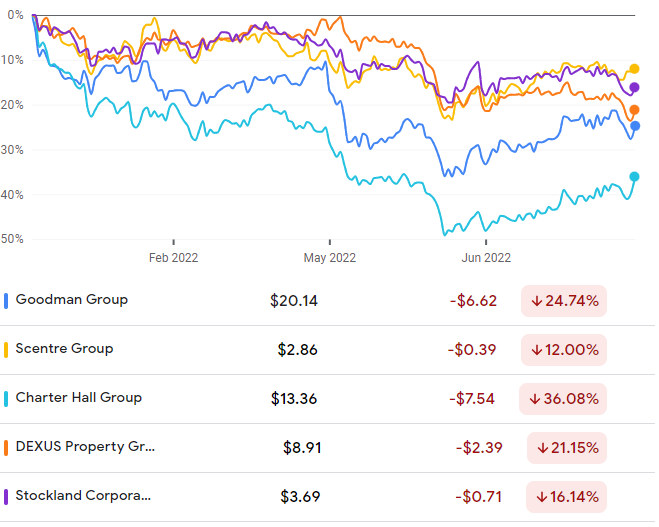 Tamawood Ltd. (TWD), a residential housing developer stock has fallen more than 34% year-to-date, while another stock Simonds Group (SIO), has lost 50% of its value year-to-date.
Falling Prices Indicates Attractive Buying Opportunity – In the current scenario, properties are taking longer to sell, and sellers are slowly lowering their prices amid a larger number of properties available for sale. While buyers may aspire to purchase at the bottom of the cycle and then sell at the top, ultimately, it's difficult to time the market perfectly. According to Domain.com (a property listing website), over the last few months, there has been an increase in the listing of the property.
Property Market Outlook
Analysis from the National Australia Bank (NAB) published in June showed that the bank expected a 3.7% average decline in house prices across the country's capital cities, rising to an average of 14% in 2023. Current negative projections of a 20% median fall in prices could suggest the presence of an Australian property market bubble, that could burst as lending becomes riskier amid rising rates, and negative equity levels possibly increase. Investors in Australian property stocks and related commodities (building materials) used to build homes may look to re-evaluate their portfolio to save their investments against a potential Australian property crash.
Disclaimer: Ace Investors Pty Ltd (ABN 70 637 702 188) authorized representative of Alpha Securities Pty Ltd (AFSL No.303575). Ace Investors has made all efforts to warrant the reliability and accuracy of the views and recommendations articulated in the reports published on its websites. Ace Investors research is based on the information known to us or which was obtained from various sources which we believed to be reliable and accurate to the best of its knowledge. Ace Investors provides only general financial information through its website, reports and newsletters without considering financial needs or investment objectives of any individual user. We strongly advocate that you seek advice, with your financial planner, advisor or stock broker, the merit of each recommendation before acting on any recommendation for their own specific financial circumstances and realize that not all investments will be suitable for all subscribers. To the scope permitted by law, Ace Investors Pty Ltd excludes all liability for any loss or damage arising from the use of this website and any information published (including any indirect or consequential loss, any data loss or data corruption). If the law prohibits this exclusion, Ace Investors Pty Ltd hereby limits its liability, to the scope permitted by law to resupply of the services. The securities and financial products we study and share information on, in our reports, may have a product disclosure statement or other offer document associated with them. You should obtain a copy of these before making any decision about acquiring any security or product. You can refer to our Financial Services Guide.