The need to decarbonize the global economy is becoming widely accepted, and the focus to achieve net-zero emissions by 2050 or soon is gaining traction. With the rapid growth in renewable electricity and falling costs of wind and solar power, the opportunity to produce low or zero carbon-emitting forms of hydrogen has captured the attention of industry, consumers, and policymakers. Various stakeholders are increasingly recognizing their active role in transitioning to a decarbonized economy.
The global hydrogen market is expected to boom between 2030 and 2050. The largest emerging roles that hydrogen is expected to play in the future of Australia's domestic energy system are as a blended gas and as a transport fuel, but its growth will present many investment opportunities across numerous sectors. Japan, South Korea, and other markets have set ambitious hydrogen targets, presenting a multibillion-dollar opportunity for the Australian export industry in the long-run.
All Australian states are committed to developing their hydrogen production capabilities, having announced millions of dollars in investment. The Australian Government is investing $1.4 billion in building a hydrogen industry. Australia's National Hydrogen Strategy is a plan to grow this industry and position Australia as a major player by 2030.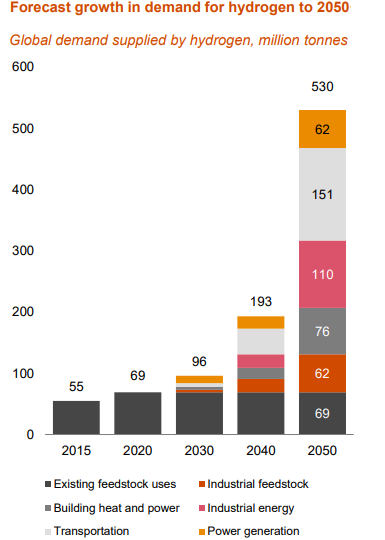 Use of Hydrogen - Hydrogen use can cover many sectors, from applications in industrial processes (such as making ammonia or steel) to replacing liquid fuels for transport uses (the whole spectrum from forklifts to container ships), to replacing natural gas for domestic and commercial heating and cooking. It can also be used in power stations to generate electricity when required.
Huge Investment/ Capex is Required
To commercialize hydrogen, considerable investment is required. It is likely that capital investments to produce hydrogen is likely to touch billions of dollars. The hydrogen industry will require largescale electrolyzers, renewable electricity, hydrogen storage, water and water pipelines, electricity infrastructure, CCS as appropriate, and hydrogen pipelines. Industrial and port facilities will need to be developed to process and export hydrogen. Mineral and chemical companies will invest in new production processes, and transport and logistics companies will procure new vehicle technologies. Refueling stations will be required to supply hydrogen for vehicles.
A Valuable Export Commodity
The Australian Government has already signed a cooperation agreement with Japan and a letter of intent with South Korea to underpin future hydrogen export, with a plan to spearhead the development of international certification standards. Australia has the opportunity to export over 500 kt of hydrogen to East Asia by 2030, worth an estimated $2.2bn, which may grow further to over $5.7bn by 2040. The export of hydrogen and its derivatives provides Australia not only with an economic growth opportunity, but a way to evolve the resources and mining sectors and provide economic resilience in a decarbonizing world. Hydrogen also provides tangible opportunities for Australia to decarbonize its domestic energy system, including power generation, manufacturing, and transport. Australia is particularly well-positioned to play a key role in the hydrogen export market with its abundant renewable resources, existing bilateral trade relationships with Japan, Korea, and China, and low sovereign risk.
Companies/Stocks actively present in hydrogen space include – Pure Hydrogen, Province Resources, Hazer Group, Hexagon, Environmental Clean Technologies, and others.
To summarize: Australia can lead the global shift to hydrogen:
Abundant renewable energy potential at low cost – important for the development of industrial-scale green hydrogen;

Strong existing trade links – well-positioned geographically for the high hydrogen demand economies of Japan, South Korea, China, and Singapore;

Proven track record in industrializing commodity production – at the forefront of natural gas production and trade, with well-developed regulatory, safety, and market infrastructure.
Ace Investors Pty Ltd (ABN 70 637 702 188) authorised representativeof Alpha Securities Pty Ltd (AFSLNo.303575).Ace Investors has made all efforts to warrant the reliability and accuracy of the views and recommendations articulated in the reports published on its websites. Ace Investors research is based on the information known to us or which was obtained from various sources which we believed to be reliable and accurate to the best of its knowledge. Ace Investors provides only general financial information through its website, reports and newsletters without considering financial needs or investment objectives of any individual user.We strongly advocate that you seek advice, with your financial planner, advisor or stock broker, the merit of each recommendation before acting on any recommendation for their own specific financial circumstances and realise that not all investments will be suitable for all subscribers. To the scope permitted by law, Ace Investors Pty Ltd excludes all liability for any loss or damage arising from the use of this website and any information published (including any indirect or consequential loss, any data loss or data corruption). If the law prohibits this exclusion, Ace Investors Pty Ltd hereby limits its liability, to the scope permitted by law to resupply of the services. The securities and financial products we study and share information on, in our reports, may have a product disclosure statement or other offer document associated with them. You should obtain a copy of these before making any decision about acquiring any security or product. You can refer to our Financial Services Guide