Lithium prices have increased to their highest in more than three years due to strong demand in electric vehicle sales. Increasing air pollution across emerging economies has accelerated the shift towards electric vehicles (EV). Spot prices for lithium carbonate in China have climbed 170% so far this year to 142,000 yuan ($22,000) a tonne. Prices of spodumene, a source of lithium mainly mined in Australia, have climbed over 140% this year to $990 a tonne.
Over the last two days, lithium stocks were in action as Pilbara Minerals, a strong lithium player announced that it had secured an offer of $US2240 per tonne for a parcel of the lithium-rich spodumene concentrate produced in Western Australia. The price is double the $US1,250/tonne received via the inaugural auction held in late July.
Details on Pilbara Mineral's Battery Materials Exchange Auction
Pilbara Minerals launched a new platform for its Pilgangoora project in March to provides "flexibility to the transaction by auction, tender process or bilateral sale." During the inaugural battery materials exchange (BMX) auction held on 29 July, Pilbara Minerals received 62 online bids ranging from US$700/dry metric tonne (dmt) to US$1,250/dmt. On 15th September, Pilbara announced the results of a second spodumene concentrate digital auction. The company received the highest bid of US$2,240/dmt for 8,000 dmt. This clearly shows the continued popularity of lithium.
Will Record Lithium Prices Continue?
Lithium spot prices have continued to increase. According to S&P Global, lithium hydroxide prices have continued to strengthen, marking an all-time high of US$20,000 metric tonne (mt) on 8 September. The primary reason is a surge in electric vehicle sales in China that has driven demand for lithium-ion batteries higher. Between January and August, sales of new electric vehicles in China increased over 190% year over year, according to data from the China Association of Automobile Manufacturers.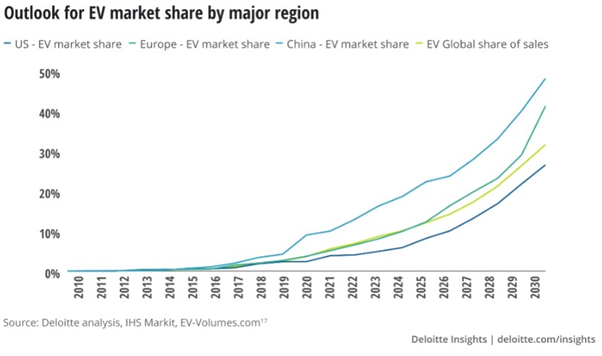 Increasing demand and tight supply will continue to drive the lithium price. The market is expecting that the rise of electric vehicles will continue to lead lithium prices higher. Analysis from IDTechEx has forecast that sales of electric vehicles are on track to surpass five million units this year – counting only passenger cars. This Increased demand has caused mining companies to invest heavily in lithium mining projects around the world, hoping to capitalize on a global shift to renewable technologies. Since 2017, six lithium mines have opened in Australia. Australia is set to maintain its position, with existing mines steadily ramping up production, bringing over 400,000 mt LCE of new supply by 2025.
We believe that the global acceleration towards decarbonization, the electrification of vehicles, and energy storage solutions will continue to boost lithium prices. To meet the demand, the lithium supply landscape will continue to evolve. The credit rating agency, Fitch forecasts global lithium production will more than triple from 442,000 tonnes of lithium carbonate-equivalent in 2020 to 1.5 million tonnes of LCE by 2030.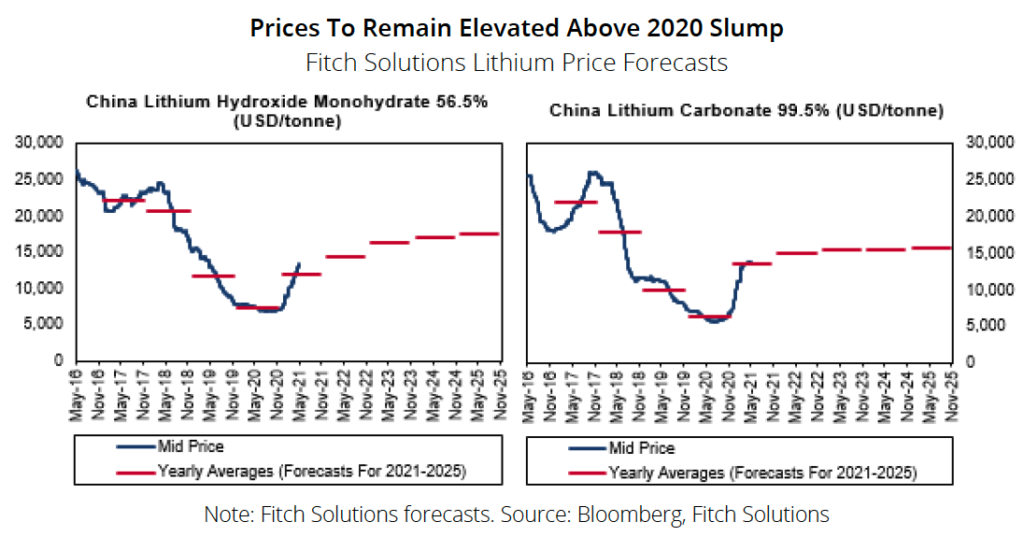 Well-established producing countries will record strong growth, while several new lithium-producing markets will emerge in the next ten years. Production growth is expected to accelerate in Australia, which is expected to remain the largest lithium-producing country through 2030.
Disclaimer: Ace Investors Pty Ltd (ABN 70 637 702 188) authorized representative of Alpha Securities Pty Ltd (AFSL No.303575). Ace Investors has made all efforts to warrant the reliability and accuracy of the views and recommendations articulated in the reports published on its websites. Ace Investors research is based on the information known to us or which was obtained from various sources which we believed to be reliable and accurate to the best of its knowledge. Ace Investors provides only general financial information through its website, reports and newsletters without considering financial needs or investment objectives of any individual user. We strongly advocate that you seek advice, with your financial planner, advisor or stock broker, the merit of each recommendation before acting on any recommendation for their own specific financial circumstances and realize that not all investments will be suitable for all subscribers. To the scope permitted by law, Ace Investors Pty Ltd excludes all liability for any loss or damage arising from the use of this website and any information published (including any indirect or consequential loss, any data loss or data corruption). If the law prohibits this exclusion, Ace Investors Pty Ltd hereby limits its liability, to the scope permitted by law to resupply of the services. The securities and financial products we study and share information on, in our reports, may have a product disclosure statement or other offer document associated with them. You should obtain a copy of these before making any decision about acquiring any security or product. You can refer to our Financial Services Guide.