Over the past 18 months, Covid 19 has negatively impacted the economy, threatening health, disrupting economic activity, and hurting well-being and jobs. Over the past few months, prospects for the world economy have improved, but the recovery is not even. Public health strategies, the speed of vaccine rollout, fiscal and monetary support have helped the economies to recover. Upward Projection In Economic Growth - Recently, United Nation has revised its global economic forecast upward to 5.4% growth for 2021 from 4.7% growth predicted in January 2021. The world economy has now returned to pre-pandemic activity levels, but real global income will still be some USD 3 trillion less by the end of 2022 than it would have been without a crisis.
While developed economies are expected to benefit from faster access to vaccines and strong government support, some countries dependent on tourism are likely to wait a little longer to achieve recovery. As per UNCTAD report, the crash in international tourism will lead to a loss of more than $4 trillion to the global GDP for 2020 and 2021. Rebound in international tourism is expected in the second half of this year, but the UNCTAD report still shows a loss of between $1.7 trillion and $2.4 trillion in 2021, compared with 2019 levels.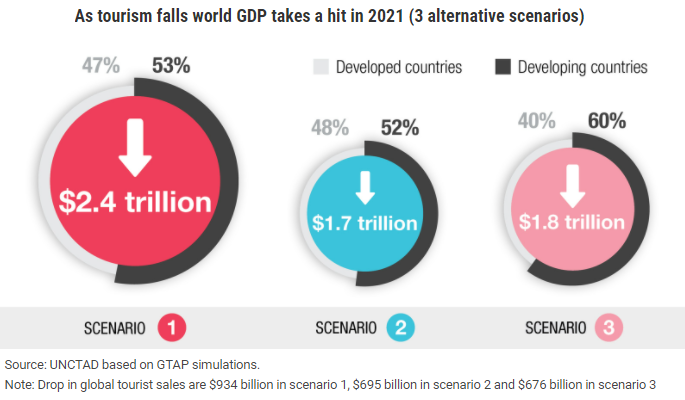 We believe that as long as a major portion of people across countries are not vaccinated, the risk of transmission remains high. Some targeted restrictions on mobility may still need to be maintained, particularly on cross border travel. This will affect the prospects for a full recovery in all countries, even for those with a fast vaccine rollout or low infection rates. There is a positive view that the high levels of household savings that have built up during the crisis could be released as economies reopen, boosting consumption and growth to higher-than-expected levels, especially in advanced economies.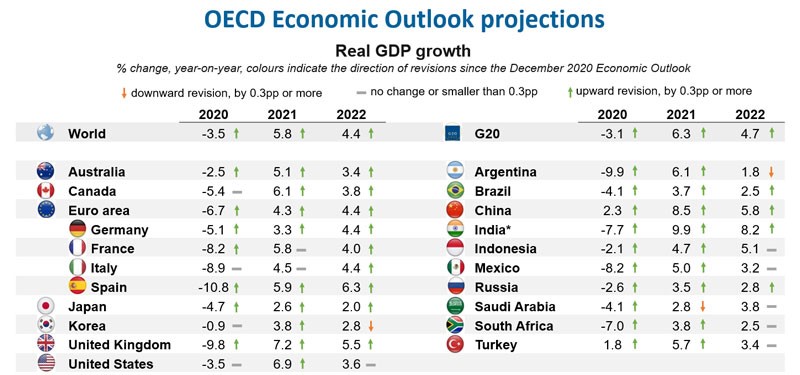 Coronavirus Impact on Stock Market
During March and April 2020, the markets witnessed a sharp selloff, every stock, every sector, every geography, every factor fell at the same pace. On 19th March 2020, Australia's benchmark ASX200 share index market closed down 3.4% lower at 4,782.9, the lowest level since Feb 2016. The fall in the market was fast and even the blue-chip companies operating with strong moats fall. Previous crashes were because of economic crises, but this has been caused by a health crisis, which makes it significantly different.
Another thing that is different this time is the quick market recovery. Generally, after a steep market selloff, markets generally take time to recover, but given the fact that the government has responded quickly and pumped trillions of dollars into the financial system, this time market recovered quickly. It seems that the efforts of the government combined with central banks paid off well and have resulted in a somewhat V-shaped recovery in the stock market.
Sectors like pharma, bio-tech, companies focused on digital payment, cybersecurity, technology fully regained their market losses. Pharma companies involved in the production of Covid vaccine have witnessed a sharp surge in the stock price. But the recovery was far for many industries like aerospace, air and travel, banking, insurance, and oil and gas.
We believe that as the economy recovers, companies with innovative products, increasing distribution reach, technology-driven processes, and healthy balance sheets are likely to perform well. There are many companies that have been least impacted by the outbreak of coronavirus and their prospect looks promising ahead with the improvement in the economy. Essential businesses like FMCG, Telecom (earlier considered as beaten down), and defensives bets of pharma, healthcare, and IT should be in the investor's portfolio to generate good returns.
Technology Space – We believe that stocks in the technology space have always been available at a premium valuation. Covid has increased the demand for online business services ranging from cloud computing to software that support home working.
Pharma/Healthcare Space – Healthcare stocks have benefitted from the fear of coronavirus, and the pharmaceutical companies have started the discovery and development of solutions for the prevention and control of COVID-19. We believe that bio-tech and medical equipment providers are likely to experience increased demand as a result of coronavirus.
We believe that successful investors use all opportunities to re-balance their portfolio and they do not let their emotions control their decisions.
Happy Investing! Think for the long term!!
Disclaimer: Ace Investors Pty Ltd (ABN 70 637 702 188) authorized representative of Alpha Securities Pty Ltd (AFSL No.303575). Ace Investors has made all efforts to warrant the reliability and accuracy of the views and recommendations articulated in the reports published on its websites. Ace Investors research is based on the information known to us or which was obtained from various sources which we believed to be reliable and accurate to the best of its knowledge. Ace Investors provides only general financial information through its website, reports and newsletters without considering financial needs or investment objectives of any individual user. We strongly advocate that you seek advice, with your financial planner, advisor or stock broker, the merit of each recommendation before acting on any recommendation for their own specific financial circumstances and realize that not all investments will be suitable for all subscribers. To the scope permitted by law, Ace Investors Pty Ltd excludes all liability for any loss or damage arising from the use of this website and any information published (including any indirect or consequential loss, any data loss or data corruption). If the law prohibits this exclusion, Ace Investors Pty Ltd hereby limits its liability, to the scope permitted by law to resupply of the services. The securities and financial products we study and share information on, in our reports, may have a product disclosure statement or other offer document associated with them. You should obtain a copy of these before making any decision about acquiring any security or product. You can refer to our Financial Services Guide.